​Miss Nicaragua Sheynnis Palacios crowned Miss Universe 2023
The 72nd Miss Universe pageant, Miss Universe 2023, took place on Sunday at the José Adolfo Pineda Arena in San Salvador, El Salvador. And Miss Universe 2022, R'Bonney Gabriel passed on the coveted crown to her successor ___ in a dazzling ceremony.
Miss Australia, Moraya Wilson won the second runner up spot, while Miss Thailand, Anntonia Porsild won the first runner up spot at the coveted contest.
Miss India, Shweta Sharda managed to find a place in the Top 20, but couldn't manage to crack the Top 10 and further rounds in the competition.
India vs. Australia: Astrologer Greenstone Lobo Predicts Winner for World Cup 2023!
As many as 84 nationalities and territories represented among the competitors in this year's pageant. Along with Maria Menounos, Jeannie Mai and Olivia Culpo, the 2012 Miss Universe, hosted the tournament for the second time in a row. Zuri Hall and Catriona Gray, the 2018 Miss Universe, took up the role of backstage correspondents for the second week in a row. And, John Legend competed in the pageant this year.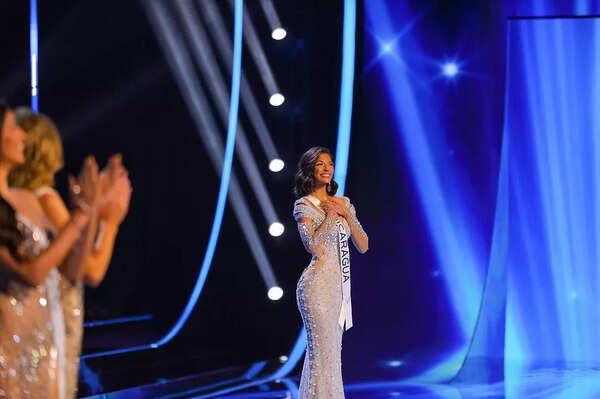 For the first time since its inception, The Miss Universe Organization let married women and women with children to compete in the pageant.
Eighty-four nations and territories sent representatives to the pageant to participate. After placing second in their national pageant or winning a casting call, five of these delegates were named to the post. The Miss Universe Organization permitted married and child-bearing women to compete in the contest for the first time since 1957.
This edition marked the debut of Pakistan; and the returns of Denmark, Egypt, Guyana, Hungary, Ireland, Kazakhstan, Latvia, Mongolia, Norway, and Zimbabwe. Zimbabwe last competed in 2001; Latvia last competed in 2006; Guyana last competed in 2017; Egypt and Mongolia last competed in 2019; meanwhile the others last competed in 2021.