Nothing Phone (2) Review: Apple of my Andro(eye)d
Nothing Phone (2) Review: How many days of testing is sufficient to review a smartphone? A couple of days, or perhaps a couple of weeks. But I decided to use the Nothing Phone (2) 5G smartphone for at least a month to make sure that I didn't jump to any conclusions. On paper, the technical specifications make Nothing Phone (2) one of the most desirable smartphones available today. But does this smartphone manage to live up to the expectations of users when it comes to day-to-day usage? Find the answer to this question and many more details about the Phone (2) in the detailed review below.
Nothing Phone (2) Review: Specifications 
Phone (2) has been launched in three RAM and storage variants – 8GB + 128 GB, 12GB + 256 GB memory and 12GB + 512 GB – with starting price of Rs 44,999. It is available in two colour options – Dark Grey and White. I am reviewing the top storage variant of the device in Dary Grey colour.
It comes with tried and tested Snapdragon 8+ Gen 1 chipset, Sony IMX890 sensor at the rear, 32MP selfie camera, metal frame, dual stereo speakers and 45W fast charging, display with up to 120Hz adaptive refresh rate, Corning Gorilla Glass and list goes on. On top of this, it has a unique style statement – thanks to Nothing's signature glyph interface which has received major upgrades and offers a wide range of features. 
Nothing Phone (2) Review: Design
A lot of people have said that not much has changed in Nothing Phone (2) in terms of design. But I beg to differ with this. This is the second generation of smartphone and Nothing has decided to stick to the identity that made it quite popular. But the company has made several sensible changes in terms of design without drifting away from its ethos. It is not just bigger and wider but a bit thicker and heavier as well. However, you will not be able to gauge the thickness with the naked eye. In fact, Phone (2) would appear slimmer than Phone (1) – thanks to its curved glass back and new thinner midframe. Below is a table for a quick comparison between the dimensions of the two smartphones:
Nothing Phone (2) comes with a transparent glass back and the fit and finish of the device look premium – the dark grey colour introduced this time looks more sophisticated. Pulling off a neat and clean transparent body has not been an easy task, but Nothing seems to have mastered the art and has outdone itself. Behind the glass is an improved glyph interface which now has more LED strips and lighting zones – I will talk about the glyph interface in detail later – and looks brighter. The slightly curved edges blend well with the metal frame – made of 100 per cent recycled aluminium – and make the device ergonomic. Also, the round edges of the smartphone make it more comfortable to hold while playing games and watching videos. Moreover, it feels easy to carry in the pockets of your tight trousers or pants.
While this is a large smartphone, the power button on the right side has been placed in the perfect position, making it quite accessible. Volume rockers are on the left side of the smartphone and are easily reachable. At the bottom of the smartphone is a SIM tray, the primary microphone, Type-C charging port and a speaker grille. There is only a secondary mic on the top. Nothing Phone (2) comes with an IP54 rating which makes it safe to use during light rains.
The smartphone has quite a sturdy design and feels solid. I have been using this device without any case and can't see any scratches on the back panel as well as the frame of the body. Though the back is a smudge and fingerprint magnet, it gets clean quite easily. But I would recommend using it with a case.
Nothing Phone (2) Review: Glyph Interface
LED lights, or glyph interface, as Nothing calls it, are one of the USPs of the Nothing smartphones. Several changes have been made to this interface to make it more useful. These LEDs don't just alert you about incoming calls or notifications but also let you access more information without even looking at the display. This has been made possible because the Phone (2) comes with 11 LEDs, instead of five in its previous generation.
One can use the LED lights as a countdown timer, a battery charging indicator, a volume checker and even integrate third-party apps like Uber and track the progress of your favourite ride. According to the company, users will soon be able to integrate some food delivery apps as well. As the device supports reverse charging, the glyph interface will glow up once you start charging something. For example, the LED lights will glow as soon as I put my Nothing Ear (2) earphones over the back of the phone.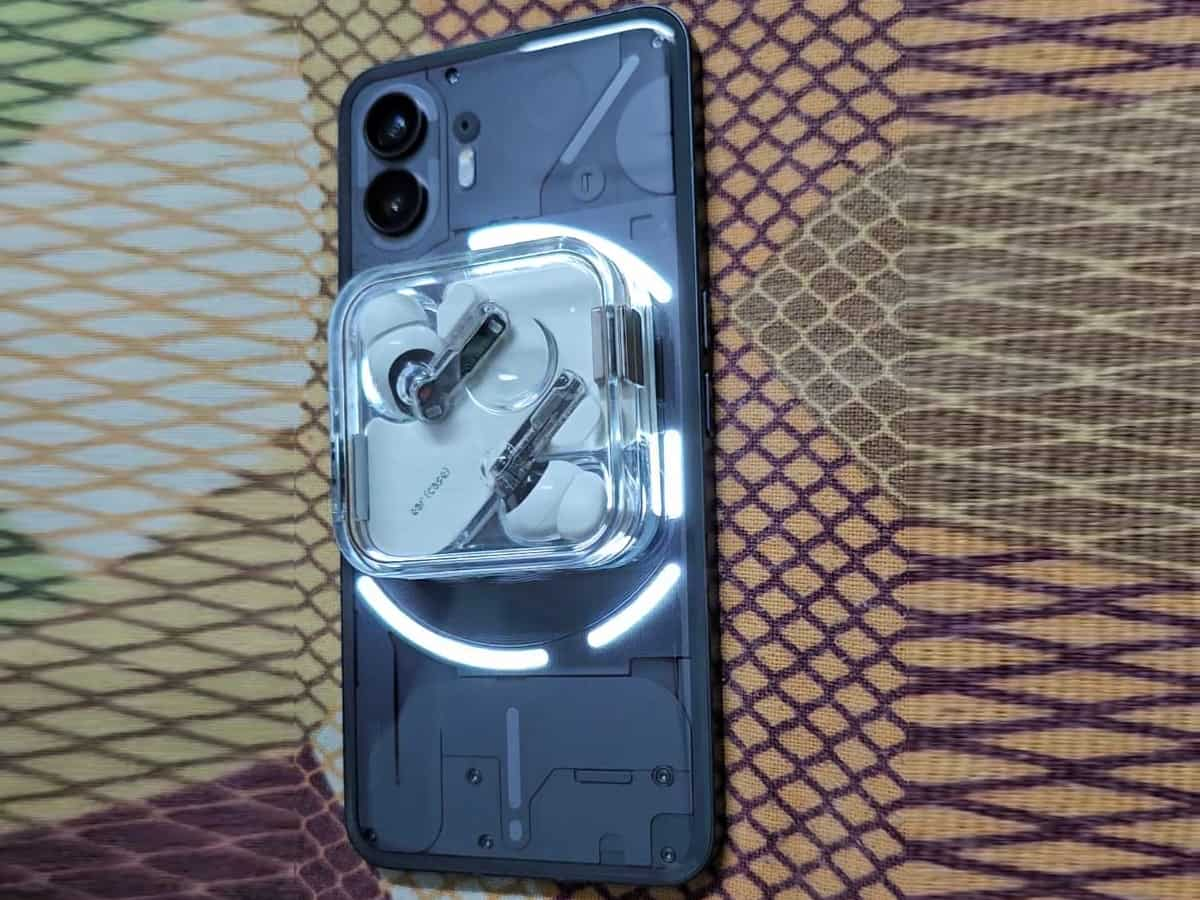 You also get an option to set the intensity of the LED lights or simply put it on auto mode. These features may not seem to be very useful initially, mainly because it takes some time before you will actually realise how to use them to the fullest. But over the usage of one month, I discovered them and became very used to them. I would not say it significantly reduced my screen time, but yes it did make a difference.
Amid all the lighting, let's not forget about the small red recording LED light. It will glow once you start video recording and can be turned off from the settings. The red light too has changed as it's a horizontal bar now instead of a small dot.
Nothing Phone (2) Review: Display
Display of Nothing Phone (2) is another feature which has received some major upgrades. It now comes with HDR10+ 6.7-inch OLED display. The display has not just gotten bigger but better as well because this time it comes with LTPO or Low-Temperature Polycrystalline Oxide technology. In simple terms, this helps the display consume much less battery by dynamically changing its refresh rate. LTPO technology lets the display effortlessly switch to lower refresh rates from power-hungry high refresh rates. In this case, it can go as low as 1HZ refresh rate when the screen is locked and preserves power when the device is lying idle.
The display is quite smooth as it offers a 120Hz refresh rate and good viewing angles. Also, it can reach a peak brightness of 1,600 nits, compared to 1,200 nits in the Phone (1). The smartphone can be easily used outdoors. Before I talk about the punch hole, the one thing in this smartphone that will easily grab attention is the bezels on all sides. The bezels are now thinner and despite being not the thinnest, it looks good because of the symmetry – something not very common. Content consumption on this device is fun, the screen produces punchy colours and the experience is further enhanced by dual stereo speakers which are loud enough and retain details even at full volume.
Coming back to the punch hole, it has moved to the top centre from the left centre. While I like this change, some would want it to be the way it used to be on the Phone (1). The display has an optical fingerprint sensor which is quite snappy. Although most premium phones now come with ultrasonic scanners, the fingerprint sensor in Nothing Phone (2) does its job well. The company does provide a screen guard but its quality is below average as it gathered several scratches in only a month of usage.
Nothing Phone (2) Review: Performance
The smartphone is powered by Snapdragon 8+ Gen 1 chipset built on a 4nm process — another note-worthy upgrade. The company claims that it gives an 80 per cent improvement in overall performance compared to the Phone (1), which had Snapdragon 778G+ processor. While this is not the most advanced chipset available in the market, it is definitely very capable and has a proven track record. The chip is known for its heat management capabilities and this was quite evident while playing games on this device. Nothing Phone (2) can easily bear heavy games like Asphalt 9 and BGMI. Even when I played games for over 30 minutes, with multiple apps already running in the background, the smartphone didn't heat up.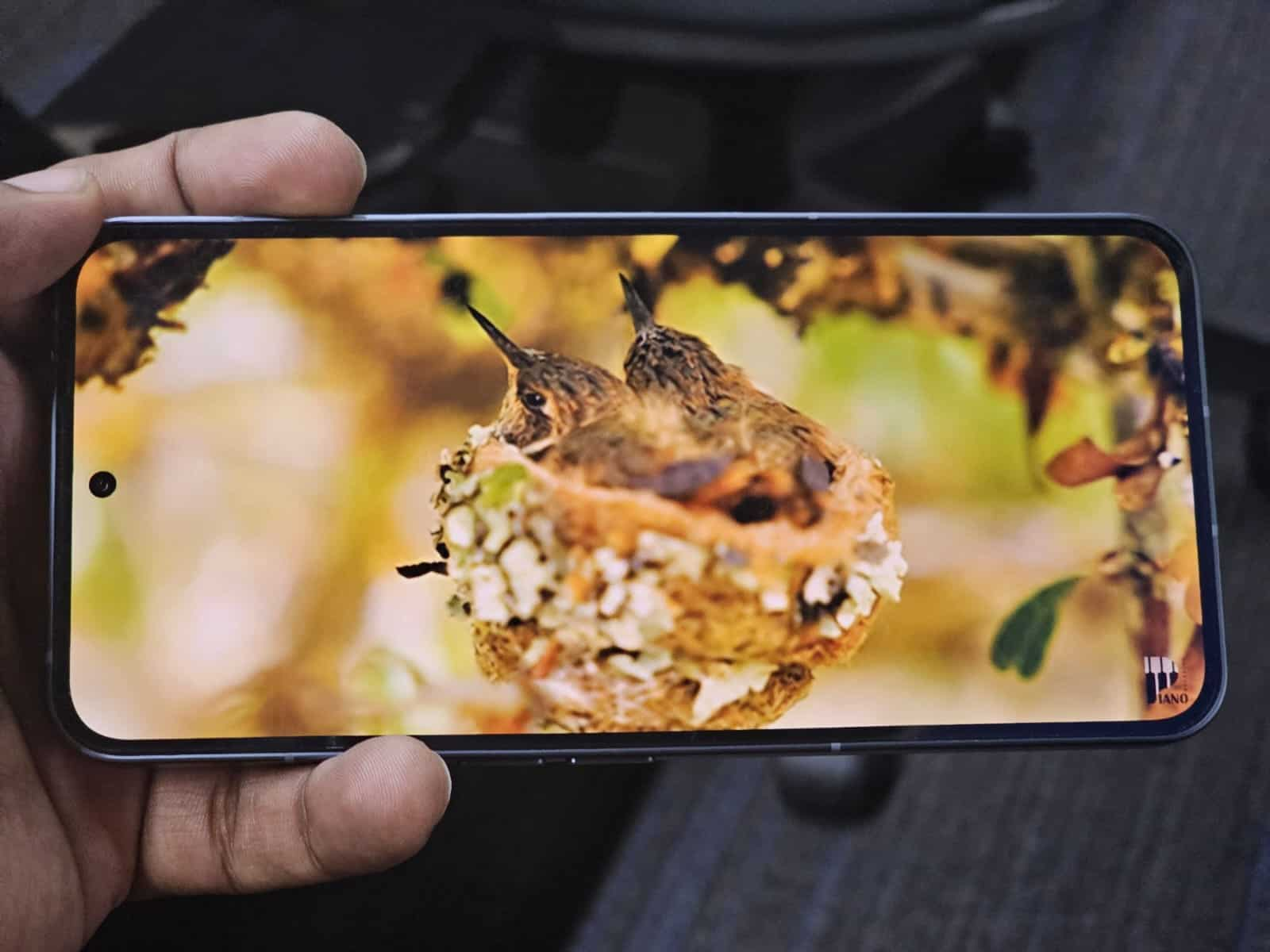 It is worth mentioning that there are several smartphones available in the market which are powered by the same chipset and are priced as low as Rs 35,000.
Multitasking, browsing so many pages in one go, switching from one app to another, and much more can be done without any lag.
Nothing Phone (2) Review: Software
While Nothing Phone (2) stands out in the crowd because of its transparent back design and glyph interface, the strongest feature of the smartphone remains is its software. It boots on the latest version of its software Nothing OS 2.0.1 — which had received an update only a few days back. While this has brought several improvements, Nothing OS 2.0 – based on Android 13, is the only smartphone that I can think of in this price bracket that offers the stock Android experience.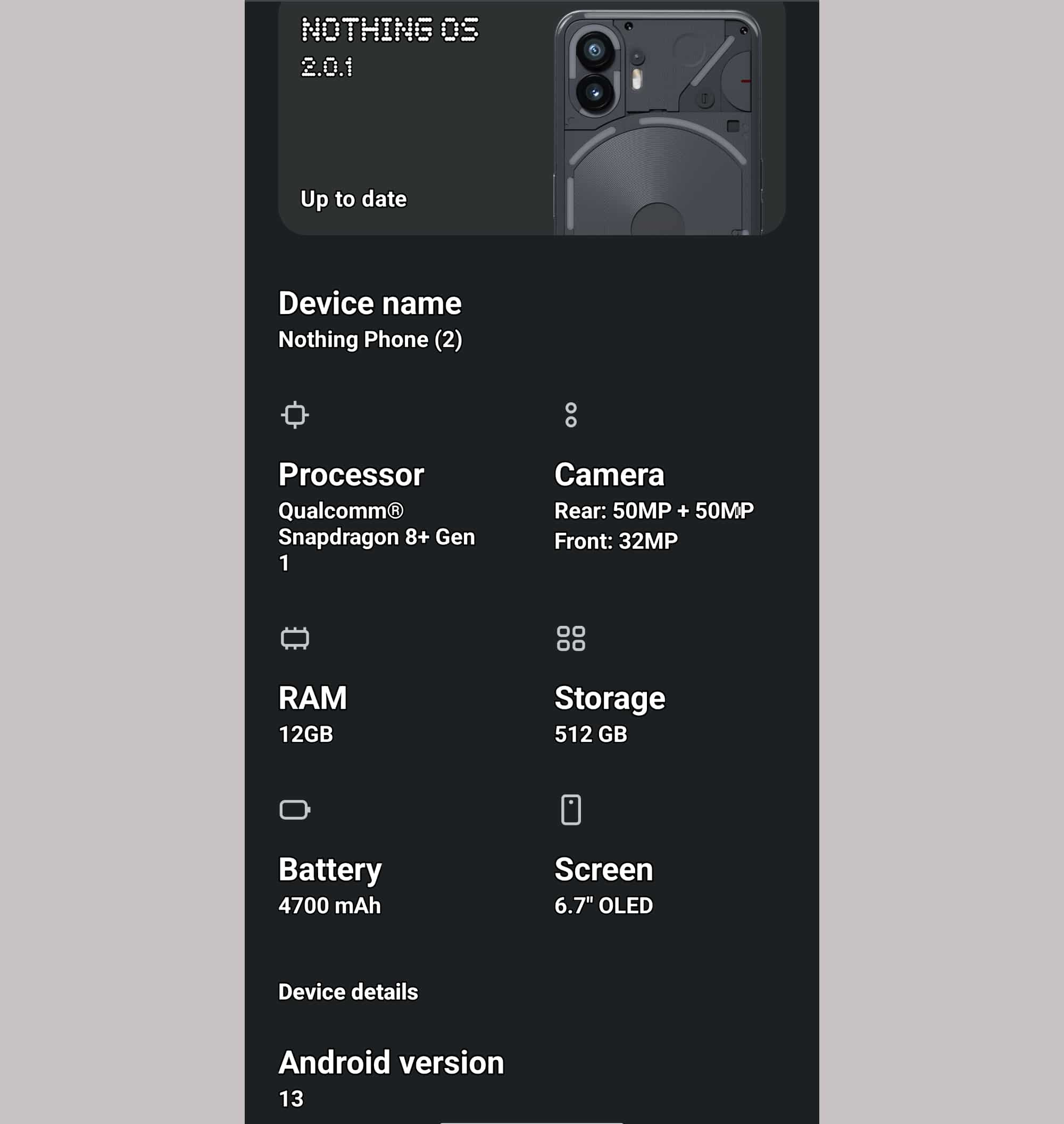 It's totally bloatware-free with no useless apps. In fact, there were less than 30 pre-installed apps on the device – with at least one-third of them from Google. You will not get notifications to install useless apps on the device. The Nothing OS 2.0.1 also offers a lot of customisation. The company is also encouraging users of more mindful usage of smartphones with its new visual identity.
Nothing Phone (2) Review: Camera
Nothing Phone (2) has a dual camera setup at the back. While the megapixels remain the same, the second generation of smartphones by Nothing comes with a better sensor. It has a 50-megapixel Sony IMX890 as a main sensor (Phone 1 had Sony IMX766) and this is accompanied by a 50 MP Samsung JN1 sensor. For selfies, the device now has a 32MP sensor – a major upgrade from the Phone (1)'s 16MP sensor.
I spent a couple of days clicking images at different lighting conditions and found each one of them to be satisfactory. While images clicked during the day are vibrant and sharp with good dynamic range, they seem to retain a lot of details even when zoomed. While most of the time the images would look saturated and a bit sharper, the ultra-wide camera produces more natural-looking photos.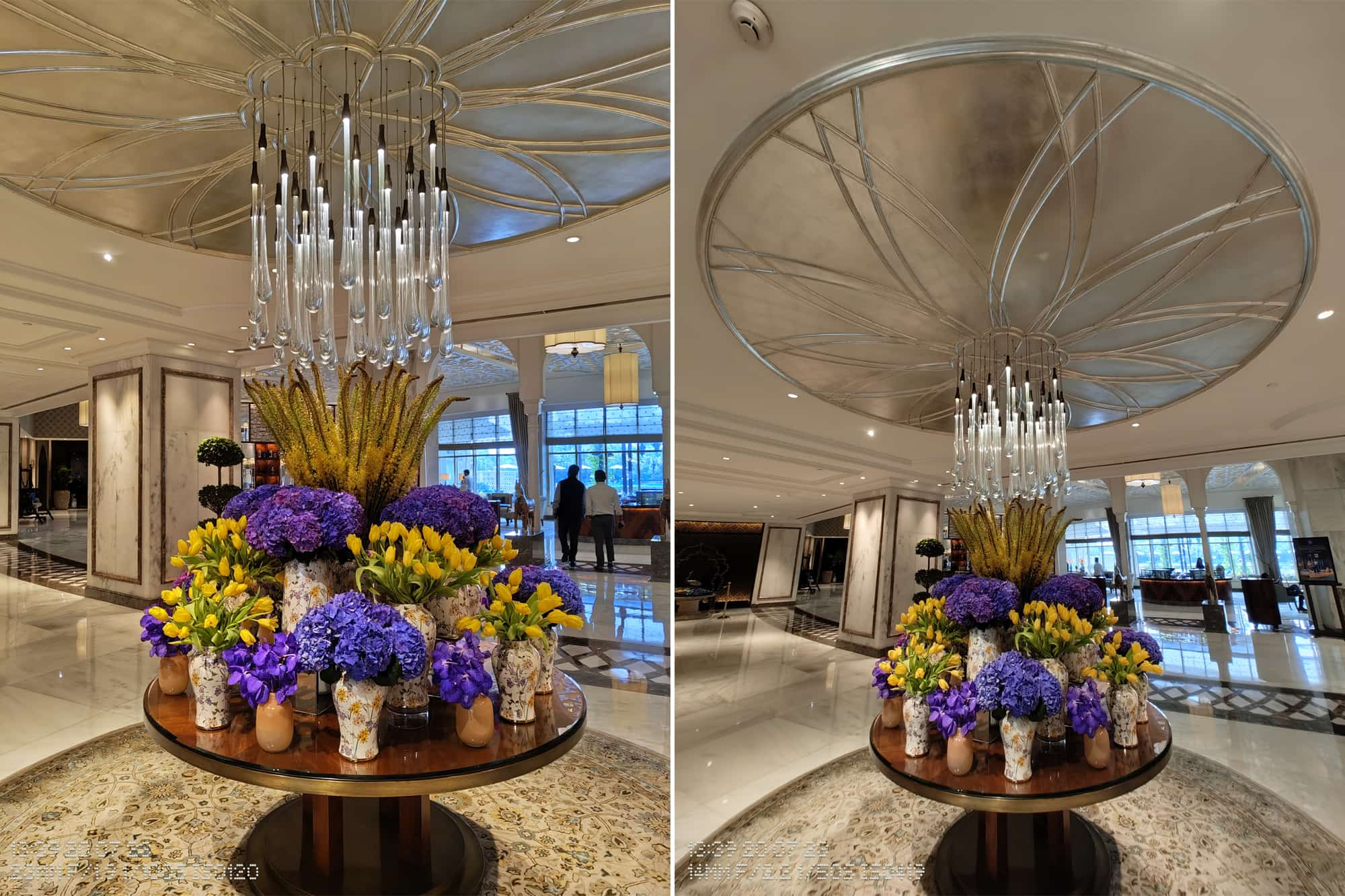 In low-light conditions, the main camera clicks decent photos but images look a bit distorted at the edges in ultra-wide mode. Night mode can be useful, but only to an extent. Portrait images have good edge detection and bokeh effect.
Selfies from the 32MP front camera look great and the skin tone looks natural. The portrait mode of the selfie camera too works well. The camera does struggle at times in low-lighting conditions but you can click decent images by enabling retouching filters.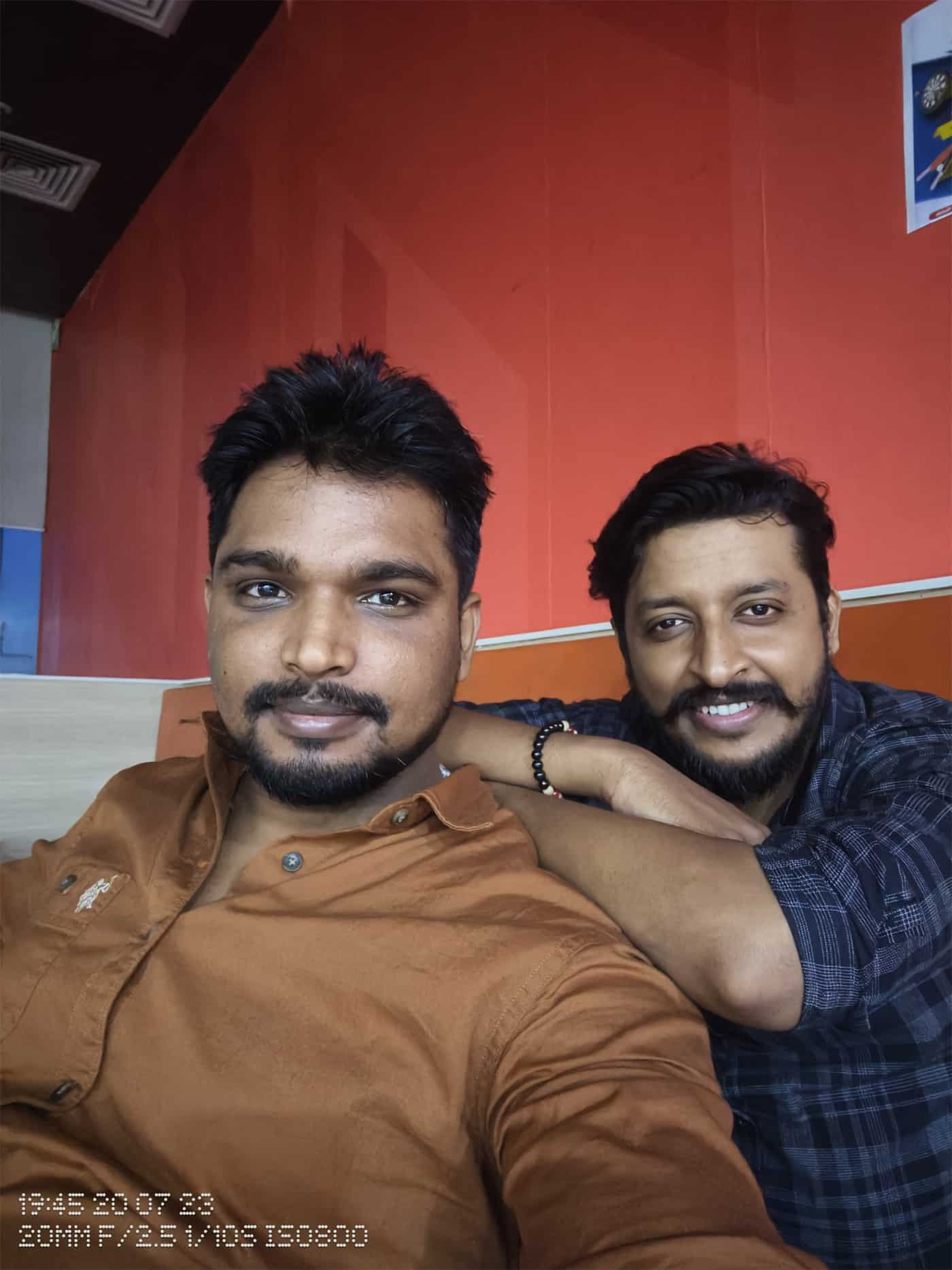 In a nutshell, the smartphone is quite capable of producing images that are worth sharing on social media platforms. So, if you are not much of a photographer, and click images only to share them with your family and friends, Nothing Phone (2) has everything that you will need. However, providing a telephoto lens could have given the smartphone an edge over others. It also lets you click images in the macro mode, but there's a lot of scope for improvement.
Nothing Phone (2) Review: Battery and charging
Nothing Phone (2) is backed by a 4,700mAh battery and supports 45W fast charging. These too are an upgrade over the previous generation which had a 4,500mAh battery and supported 33W fast charging. The Phone (2) continues to support 15W wireless charging and 5W reverse charging. Just like some other smartphone manufacturers, Nothing too doesn't provide a charging brick in the box.
It comes with a transparent USB Type-C to Type-C charging cable, which adheres to the aesthetics of the smartphone.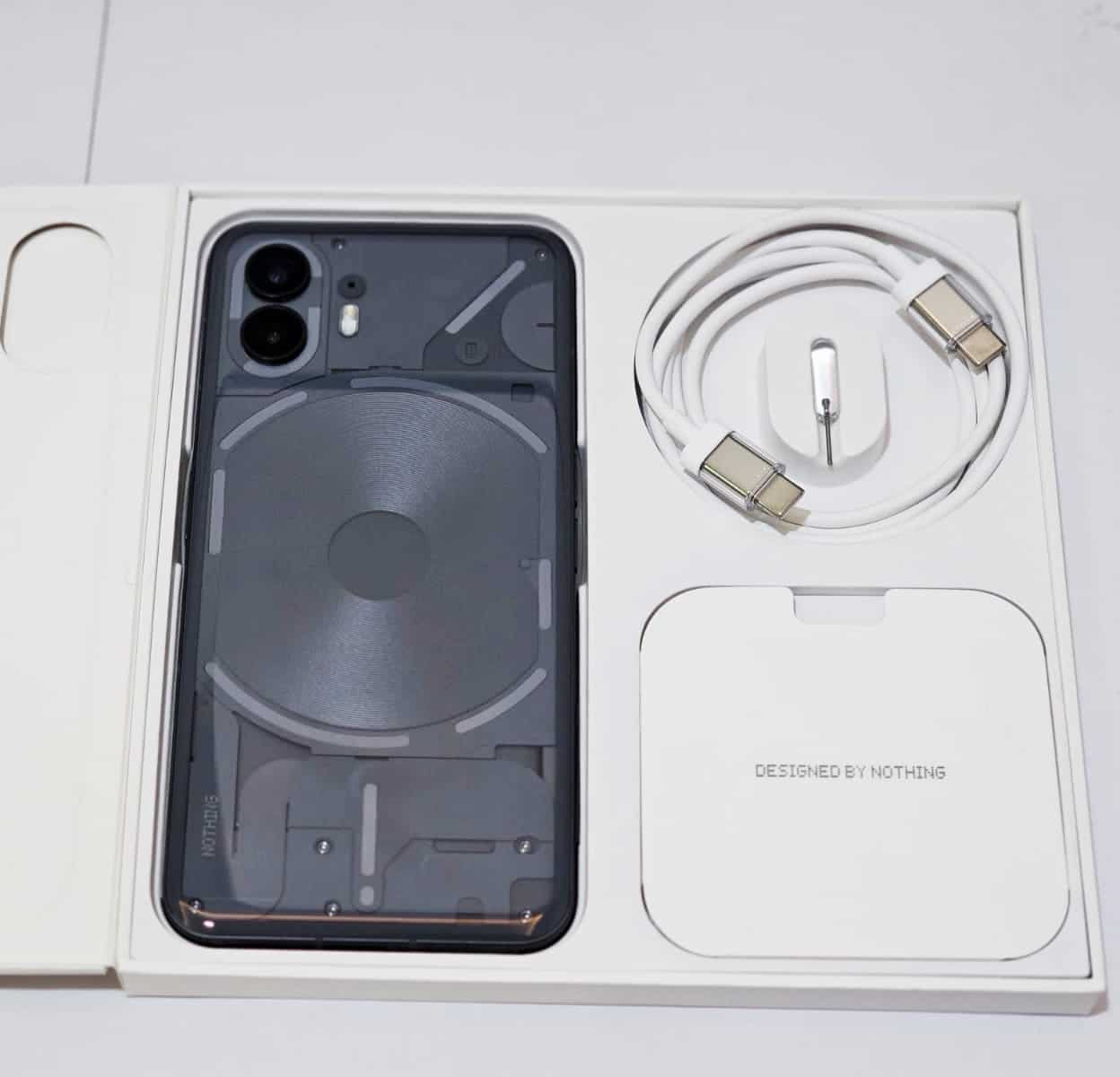 Using a 45W charger, the device can be comfortably juiced up from zero to 100 per cent in less than an hour. While this is way behind others, it is something that most of the users won't complain about. However, the battery is powerful enough to last you for an entire day with ease. If you are too much into gaming, you may have to carry the adaptor with you.
Nothing Phone (2) Review: Verdict
Nothing Phone (2) comes with several notable changes and therefore those looking to upgrade to the new device certainly have all the reasons to do so. But the price may be a bit of a concern for many. However, the unmatched software experience and bloatware-free interface on Nothing Phone (2) can be reason enough for users to pay some extra bucks for this device. Apart from this, Nothing Phone (2) is one of the most performance-oriented smartphones, thanks to Snapdragon 8+ Gen 1 chipset. And if you managed to develop a taste for Nothing's glyph interface, you will surely want to upgrade. Despite all this, India is a very price-sensitive market and this segment (Rs 40,000 to Rs 50,000) has become one of the most hotly-contested of late. Had Nothing priced the Phone (2) more aggressively, it would have sold like hot cakes. But then, don't we think of 'premium' iPhones as very costly devices? Maybe this strategy of the company would help it present Nothing Phones as an Android-equivalent of the iPhone.