Post-Mortem: How Was Anime Expo 2023? – Anime Expo 2023
Anime News Network's editorial team braved the crowd and heat of Los Angeles for another packed weekend at Anime Expo. The event is always a logistical Rube Goldberg machine, with each reporter integral in delivering a marble (in this case, news announcements, on-the-ground reporting, and interviews) to anime fans far and wide. No one person can attend every major event within the Los Angeles Convention Center each day; even between the five of us, I had to make judgment calls on what could feasibly be done while also maintaining a reasonable workload between us all.
The Logistics
Leading up to day one, I already had concerns from a management perspective when it was announced that there would be no room-clearing between panels. This is worrying, both from a press coverage perspective and an attendee perspective, because it allows for room camping. This prevents fans coming from a different panel or premiere from potentially getting into another major event across the convention center. It also meant there was no guarantee for press either, and we're often running back and forth between Main Events, the JW Marriott, the press work area, and the 400-500 panel rooms. Past iterations of AX had a press line that circumvented getting locked out, but we were told in advance by AX's PR management that they couldn't guarantee that we'd get into a room and, if we did have the extra 30 minutes, to instead go to the Press Lounge and get a PR escort.
I did this once, but the entire escort affair was, while beneficial, a bit of social engineering that involved lying to volunteers monitoring the door when the room was capped. I don't want to lie to do my job; this was the first time I was told to do so at AX.
After talking with the editorial team, we suspect that the lack of room clearance is tied to a shortage of volunteer staff. It also seems strange that room clearing was removed during the same year the Premiere Badge program was discontinued, an expensive way to guarantee front-of-the-line access to AX's most popular events. On the other hand, room camping might have kept more people out of the outdoor lines in the heat.
There is no denying that event drew big crowds this year, badges were sold out, and managing the sheer population size of the convention continues to be a problem, especially on opening day. Fans bustle into the convention center each year to be one of the first to get into the Exhibition Hall, causing massive congestion and, for the second year in a row, intervention by the Fire Marshall. However, the alternative would require letting fewer people in (and thus more people standing in the heat). This year, the Fire Marshall shut down the South Hall entrance on Day 1 for approximately 90 minutes, and there was additional overcrowding on the West Hall path that day that kept some attendees from re-entering the convention after going out to access the food trucks.
Anime News Network freelancer Bamboo Dong was in the hallway trying to get from the South Hall to the West Hall around 1 pm on Day 1 and reported that it "was actually crowded to the point where it was starting to feel dangerous. I was maybe 25 feet from the escalators, and it was a total deadlock. The crowds weren't moving at all, and I was packed in for maybe 10-15 minutes. People were trying to shove their way through. It was not good," she said. "I had to cross my arms in a defensive position because I was legitimately worried that there might be a crowd crush incident."
Anime News Network freelancer Kalai Chik has attended Anime Expo since 2008 and has become increasingly concerned for her general safety over the past five years.
"Between overcrowding, lack of security staff, and the out-of-control attitude of fans, this year was a tipping point for Anime Expo given how densely packed any area was at a given time," she said.
The high attendance and sold-out badges meant scalpers were on site too. However, given the technology used in AX badges for tapping in and out, I've always wondered if they would work after purchase. If they don't, there's no recourse. Likewise, ANN's freelancers noticed autograph tickets and signed Funkopop scalpers near AX. The autograph tickets are doubly unfortunate. We noticed people were standing in autograph lines for more than a day ahead. In previous years, autograph hopefuls were prohibited from doing that before nighttime because they would be a fire hazard, blocking pathways as the line snaked around.
Anime Expo has colloquially been known as "Line Con" for years, but viewing the situation from the upper level on Day 1 is nerve-wracking due to its potential to turn into a worst-case scenario.
A Revitalized Entertainment Hall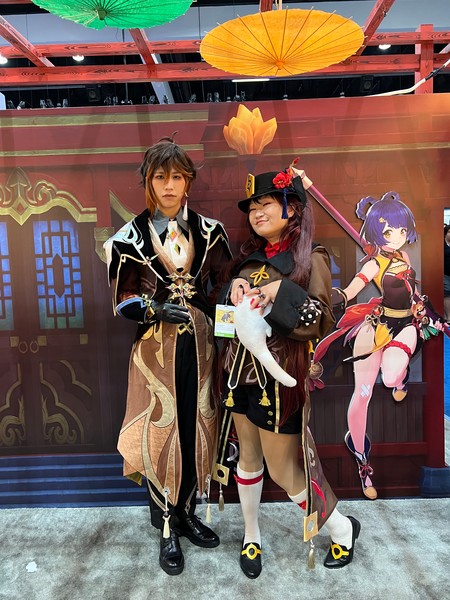 There are bright spots for those who want to enjoy AX but mitigate their time in a sea of humanity. The Entertainment Hall was further fleshed out than in previous years by adding major gaming publishers like miHoYo and Yostar. Organizers bumped up the number of gachaball machines to double in previous years.
"I was really impressed with the way that many of the mobile game publishers (and Ghibli, for some reason) were moved here because it meant that there was an additional area (besides the Exhibit Hall) where publishers could set up huge, sprawling booths with lots of photo areas. I can't speak to all of the booths, but at the ones that I spent a lot of time at, the employees were trying hard to prevent people from blocking traffic and congregating in unsafe areas. It meant that lines were constantly being capped, but that's probably better than the alternative. In general, having these large booths spread out into both the Entertainment Hall and the South Hall lobby area and even the West Entrance lobby was pretty cool," Bamboo said.
The Food
There was a much more extensive selection of on-site food options, including an outdoor beer garden designed to resemble a Japanese festival market. Outside the convention center, plenty of cooks line up to sell hotdogs. I've always thought the hotdogs looked dubious, but according to freelancer Lucas DeRuyter, they're excellent.
"Is there a sense of risk when you order a hot dog from one of the street carts outside of Anime Expo? Yes. But, when you're leaving the convention center at 10 pm after a long day where you've put nothing in your body besides two croissants and enough black coffee to jump-start a flatlining heart, the reward is more than worth the risk. That bacon-wrapped frank had the perfect amount of sear, providing a firm texture without the bacon becoming crunchy and cumbersome. The caramelized onions and peppers added both color and sweetness to the top of the bun, though the juices and a handful of jalapeños atop the portable skillet balanced this out with a spicy kick. While hunger might be the best spice, I can say without a shadow of a doubt that that was the best $10 hot dog I've ever had and that I'll gladly eat another next year," Lucas said.
He added that the stands are only cash, even if they don't have a sign, so make sure you've got your Hamiltons ready. The food trucks at the convention center ranged from excellent to subpar. Bamboo got a taste of both worlds.
"The food trucks parked on site are a mixed bag of quality– I had the worst banh mi of my life– but it sure beats eating convention center food or fighting with congoers over the few seats at the nearby restaurants. The lines are long, and the sun is strong, but at least it's food.
One of my highlights was the themed Genshin Impact ice cream truck, courtesy of LA-based Creamy Boys, which offered "New Zealand-style ice cream," which is fruit blitzed into a soft serve. Lines were long the first few days, but there was no denying the satisfaction of digging into a cup of "Sumeru" ice cream, aka strawberry soft serve with green sprinkles on a hot afternoon. Plus, I got a couple of in-game redemption codes for mora and other items, which is always a fun bonus."
The JW Marriott Strike
I'm not a California native, so the hotel workers' strike blindsided me during the weekend of AX. The strike affected almost every hotel near the convention center, except The Westin Bonaventure Hotel. The Bonaventure is Los Angeles' largest hotel, and it reached a historic deal with its workers that included wage increases to match rising housing costs, healthcare, staffing requirements, and a pension.
Unfortunately, the JW Marriott–where a large amount of Crunchyroll's programming took place–did not reach an agreement. UNITE HERE Local 11, Southern California's largest hospitality union, went on strike outside the hotel and others in the area on July 2. Strike workers approached congoers, myself included, prior to the strike to ask us not to cross picket lines. I spent no money within the JW Marriott during the strike and wasn't staying there, but walking into the hotel to cover any of Crunchyroll's programming was a horrible feeling. I doubt there was much AX or Crunchyroll could do to move locations; there are assuredly contracts involved, and the ink dried ages ago.
The strikers returned to work on July 5, following the end of AX, but organizers stated they could go on strike again at any time. Contract negotiations are reportedly not making progress.
Concerts
This year featured VTubing powerhouse hololive's first-ever English concert. The company and VTubing exploded in popularity during the pandemic and maintained an enthusiastic fanbase while continuing to add more colorful personalities to its roster. We sent MrAJCosplay to the concert, which they described as like stepping right into an idol concert you'd see in an anime.
"There was such a strong sense of synergy with the fans from how they responded to the VTuber performers to how they coordinated their light sticks. It was such a surreal but invigorating experience that actually left me wanting more," AJ said. " It was such a surreal but invigorating experience that actually left me wanting more."
ANN freelance reporter Kalai Chik witnessed the VTuber fervor firsthand.
"I was typing away in the halls of the JW Marriott during Lazulight's 3D concert and witnessed a huge line snake all the way out of the building towards the Microsoft Theater. VShoujo's Ironmouse had a panel immediately after their concert, so two groups were fighting for the same space in the Ballroom. Last year's VTuber panels also were filled to the brim but in much smaller rooms," she said
Kalai attended the Shin Megami Tensei 30th-anniversary concert, which had a surprising number of attendees.
"Often eclipsed by Persona, SMT games weren't as popular to anime fans in the past. The remake of Nocturne and the release of SMT V brought in new fans who were excited to hear music from the entire franchise. Noticeably, the crowd was super rowdy at the sight of Jack Frost, shouting endless chants of "Hee-ho." To my surprise, the seated area on the second floor was completely full and louder than the ground floor. I'm a huge fan of orchestral and live band music, so this was one of my highlights from Anime Expo," she said.
Anime Expo also had the five-hour AX Summer Fest event and its Neon District. The latter featured an unexpected change-up in guests, including a surprise appearance from Shaquille O'Neal (aka DJ DIESEL).
The Guests
AX boasted an impressive guest list this year, with iconic artist Yoshitaka Amano, the MAPPA team, The Ancient Magus' Bride's Studio Kafka, popular voice actors Takuya Eguchi and Natsuki Hanae, music icon YOSHIKI, producer Masao Maruyama, and many more. This meant more opportunities to meet the creators and voices behind the original Japanese productions, but AJ noted that there seemed to be fewer English dub actors at the event.
"While there was certainly a fair share of Western anime presence this year, like dub actors for popular shows, one of the major events was the announcement of the One Piece dub hitting 1000 episodes; it didn't feel like they were the focus for many of the panels. A lot of Western actors and influencer presence was relegated to the Entertainment Hall and the autograph section in the Artists Alley," AJ said. "Personally, I'm a bit mixed on this because while it's good that more Japanese developers are feeling safe enough to visit LA, I don't want anime's Western presence to be buried in the process."
ANN was able to interview several amazing guests, including Yoshitaka Amano, who shared more about his ZAN project, the team behind the second season of The Ancient Magus' Bride, and Yokō Tarō and the crew behind the KamiErabi GOD.app anime series.
Cosplay this year, like previous, was dominated by the fandom's most popular flavors. SPY x FAMILY, One Piece, and Genshin Impact costumes were everywhere. ANN freelance reporter MrAJCosplay cosplayed from two out of those three franchises themself. However, AJ and Bamboo felt that the congoers paid less attention to cosplay as a whole.
"I'm so used to people being stopped out of nowhere for the sake of getting pictures taken but outside of some of the more technically impressive ones (like Gundam and Transformers), there wasn't as much of that," AJ said. Bamboo added, "Something that I've noticed in recent years is that as cosplay is more and more democratized, thanks to the availability of commercially-available costumes, it feels like fewer attendees get excited about seeing cosplay."
The Masquerade and World Cosplay Summit Finals continue to be a showcase of some of the best costume creations in fandom. I recommend enthusiasts attend to find out more about the craft. With any luck, the presentation will move to a slightly more friendly timeslot in the future (10pm to midnight is a bit rough!).
In Conclusion
Anime Expo is bursting at the seams in every sense of the word, from attendance to activities. The SPJA has the unenviable task of finding some slack for this gargantuan event as it outgrows one of the largest convention centers in the United States. Anime fandom is still going strong as the medium approaches Marvel levels of ubiquitousness in modern consciousness. The crowd levels have reached a point where a tragic incident is only a matter of "when?"
In comparison, not clearing rooms and socially engineering my way into necessary event coverage are minor complaints. There certainly is plenty to do and see at AX, whether an attendee wants to focus on music, VTubers, cosplay, or finding something good to eat on-site. The guest variety is stellar, covering fan-favorite video games like Yakuza and Pokémon to prolific anime studios like BONES, to some of the best bands out of Japan.
AX is the premiere event for all things anime, but it could all head to disaster in one quick moment until the crowding issue is properly managed.
The SPJA was contacted for comment but did not respond by press time.